About Our Adirondack Lakefront Lodge & Resort
Make Memories with Your Family
Hemlock Hall is a historic lakefront lodge and family resort on the beautiful north shore of Blue Mountain Lake, in the heart of the Adirondack Park. It is one of a few historic camps from the Gilded Age, reminiscent of a Great Camp, that continues to welcome guests year after year.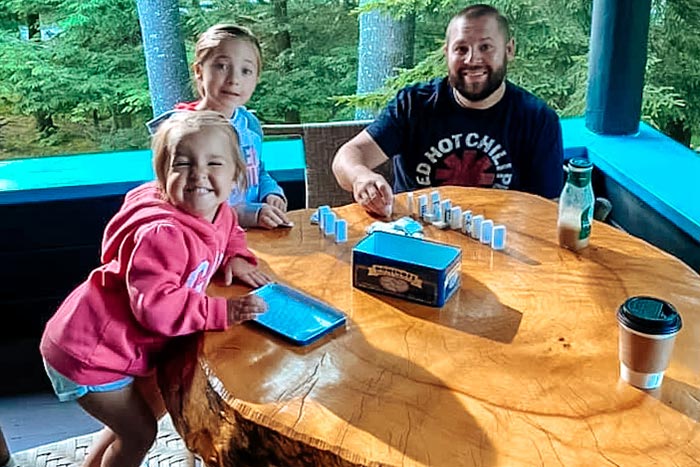 Enjoy a Relaxing Adirondack Vacation
At Hemlock Hall we operate on a Modified American Plan, which includes a hearty Adirondack breakfast and a traditional, homestyle dinner. Breakfast and dinner are served family style in the Main Lodge. However, during the 2020 season, due to the COVID-19 Pandemic, all meals were served "to-go" and delivered to our guests. Our famous Adirondack breakfast includes coffee and juice, your choice of hot (steel cut oats or cream of wheat) and cold cereals, pancakes, bacon, toast, and eggs made to order. The dinner menu is set and revolving, and consists of a homestyle, traditional meal and includes fresh bread, salad and dessert. We ask guests to report any dietary restriction upon booking. (View Menu) Planning on a hike or paddle? Bagged lunches are available for a nominal fee, and throughout the day snacks and refreshments are available in the Main Lodge.
The rustic environment of Hemlock Hall invites you to step back into more tranquil times and reconnect with family and friends. We are proud to have no phones, TVs or radios in guest rooms, with limited WIFI in the main lodge. Depending on your carrier we do have cellular service. Each room has a small refrigerator, fresh linens and daily maid service.
The History of Hemlock Hall
The Main Lodge was built in 1898 in the midst of the Gilded Age as a private hunting camp for Mickel and Clara Paul and was originally named Nawadaha, an Ojibwe word meaning "in the midst of the rapids". Wesley and Eleanor Webb purchased the camp in 1948. They built the motel units and many of the cabins and opened the camp as a vacation resort, renaming it Hemlock Hall. The resort now includes 8 lodge rooms, 4 motel rooms, and 10 cottages ranging in size from 1-3 bedrooms. Robert and Jacqueline Webb took over the resort in 1968, carrying on the established traditions for 18 years.
In 1986 Paul Provost and his late wife, Susan, purchased Hemlock Hall from Bob and Jackie Webb. Paul had spent his childhood vacationing at Hemlock Hall and wanted to preserve the traditions that he grew up with. Paul and Susan ran Hemlock together for 31 years until Susan's passing in 2017. They raised their only child Anthony at Hemlock Hall where he made summer friendships that have lasted a lifetime. Now Anthony and his wife Chelsea have moved to Blue Mountain Lake and are excited to introduce a new generation to Hemlock Hall. Anthony has been helping Paul manage the resort since 2017 and he and Chelsea are excited to step into the business in 2021.